• aromatherapy slippers • feet warm • Gift ideas • Pantuss slippers • slippers
'
---
• aromatherapy • aromatherapy slippers • feet warm • Pantuss slippers • slippers • slippers season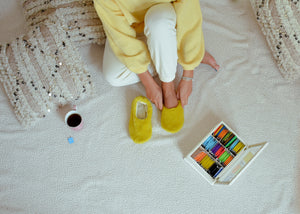 The perfect way to wind down after a busy day at work or at home! The perfect way to wind down after a busy day at work or at home! Pantuss makes aromatherapy warming slippers! They are the best gift this fall and winter season! To reach ultimate desired comfort, you take out the insoles and heat them in the microwave. The dried lavender flowers and flax seeds create a calming, relaxing aroma and when you insert them back into your Pantuss slippers and slide your feet in, that is when you reach the pinnacle of relaxation. Pantuss was born...
---
• aromatherapy slippers • feet warm • Hispanic Heritage Month • Latin WOMEN Owned Small Business • Pantuss slippers • slippers • slippers season
It's a special time of the year, Hispanic Heritage Month is here! It's September 15th to October 15th! Hispanic Americans' accomplishments and contributions are recognized and honored. Let's a step further by celebrating Hispanic and Latin WOMEN who are small business owners working hard to make a name for themselves and their brands! Latino craftsmanship is at the heart of each slipper Pantuss creates – their relationships with the factory, and their attention to detail are rooted in their Argentine heritage. The founders wanted to create a brand that reflects a slower pace and process: where things are made with love and...